EMC_PRO
European Marketing Professional Certification
The project aimed at the development of a certification system for Marketing professionals, in particular to evaluate and accredit non-formal and informal training, that is, competences acquired through professional experience.
The project envisaged a set of related outcomes during the project ,mainly: a well defined, standardised process for evaluation and certification of Marketing competencies, tangible elements for the applicants to interact with the system (including an Internet site for dissemination and operative purposes), an Advisory Board in charge of the implementing the process, a network of collaborating institutions to operate the system and gain recognition to the certificate, a valorisation strategy and a business plan aimed at exploitation of results after the EU funding period. Additionally, the project succeeded in developing a network of training institutions and universities where candidates who are not eligible for receiving the Marketing certificate were able to receive appropriate training to enhance their skills and fill the gaps in their knowledge.
Full title: EMC_PRO: European Marketing Professional Certification
Start: 01/10/2006
Finish: 30/09/2008
Programme: Leonardo da Vinci
Sub-Programme: N/A
Website: N/A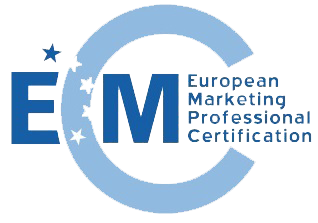 Club de dirigentes de marketing de Madrid
Avanzza S.coop,
Spain
Hellenic Management Association,
Greece
COFIMP,
Italy
EBG,
Germany
The project is co-funded with the support of the European Commission and is materialized in the context of the Leonardo da Vinci Project, Transfer of Innovation of the European "Lifelong Learning Programme".
The present publication commits only its editor. The Commission cannot be held responsible for the possible use of information that is contained in the document.
EMC_pro