SMES - IFRS
Training in International Financial Reporting Standards for SMEs
The project aimed at the enhancement of the educational background of accountants/entrepreneurs in the International Financial Reporting Standards (IFRS) for Small and Medium sized Entities (SMEs) a crucial field where the preliminary research revealed a knowledge gap even amongst professionals.
On the 9th of July 2009, the International Accounting Standards Board (IASB) issued the IFRS for SMEs. This Standard provides an alternative framework that can be applied by eligible entities in place of the full set of IFRS applied by listed European companies as of 2005.
Under that light, the main purpose of our project was to develop an effective learning system to benefit accountants, entrepreneurs and even individuals with no prior knowledge of international standards. The transnational education and training project (SMEsIFRS) included the development of a learning manual and also provided access to an interactive online learning environment and online assessment for all issues related to IFRS for SMEs.
Full title: Training in International Financial Reporting Standards for SMEs
Start: 01/10/2010
Finish: 30/09/2012
Programme: Leonardo da Vinci
Sub-Programme: Transfer of innovation multilateral project
Website: N/A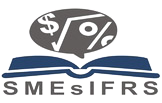 The project is co-funded with the support of the European Commission and is materialized in the context of the Leonardo da Vinci Project, Transfer of Innovation of the European "Lifelong Learning Programme".
The present publication commits only its editor. The Commission cannot be held responsible for the possible use of information that is contained in the document.
SMES – IFRS