We live at a point in time where innovation and research will play a significant role in Europe's recovery from the pandemic. As the primary Funding Programme supporting research and innovation in Europe, Horizon Europe will lead to these efforts. As of March 15th, 2021, Horizon Europe first strategic plan for 2021-2024 was adopted worth €95.5 billion in current prices.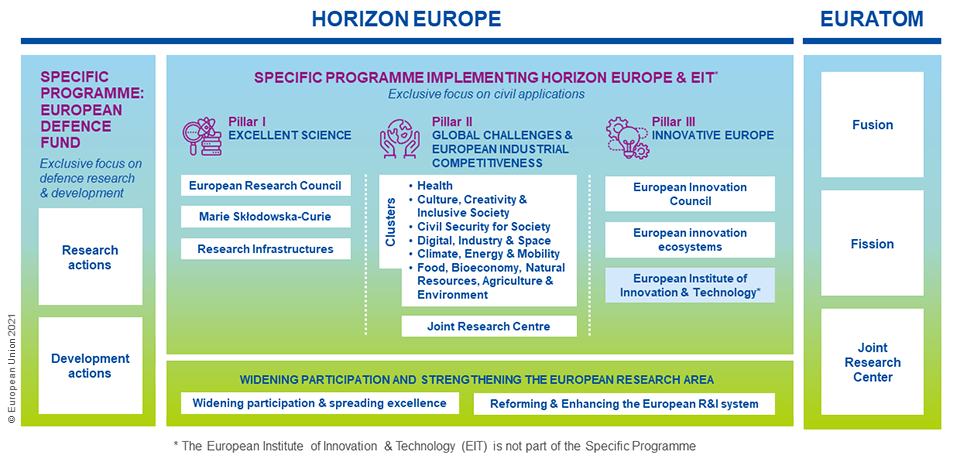 What is the Horizon Europe First Strategic Plan
Strategic planning is an innovative co-design process that aims to enlarge the ownership of the programme and optimize the effect of Horizon Europe Investments. Particularly, it is a novelty of Horizon Europe as it sets out the programme's strategic orientation for 2021-2024.
Despite the adverse effects of this pandemic, it also provided the perfect opportunity and timing to restructure the European Economy. For this reason, strategic planning is aimed towards building a sustainable, fair, and more resilient Europe.
Margrethe Vestager, Executive Vice-President for a Europe fit for the Digital Age, said: "This Plan provides a frame for top quality, excellence-based research and innovation to be delivered with the Horizon Europe Work Programme. With this strategic orientation we ensure that research and innovation investments can contribute to a recovery process based on the twin green and digital transition, resilience and open strategic autonomy."
The strategic plan aims to ensure that the EU priorities are first served like the European Green Deal, Europe fit for the digital age, and an economy that works for people. In other words, between 2021-2024, there will be significant opportunities for funding in renewable energy, digital transformation, and SMEs.
The Focus of the First Strategic Plan
In response to the priorities and the recovery plan that the EU has set forward, Horizon Europe First Strategic Plan 2021-2024 identified the following four key strategic orientations for EU research and Innovation:
Promoting an open strategic autonomy by developing key digital, enabling and emerging technologies, sectors and value chains.
Restoring Europe's ecosystems and biodiversity and managing sustainably natural resources.
Making Europe the first digitally-enabled circular, climate-neutral and sustainable economy.
Creating a more resilient, inclusive, and democratic European society.
Fifteen (15) impact areas support the above strategic orientations. Based on those impact areas, the strategic orientations were identified, during the co-design process, by using a bottom-up approach.
We may have identified the expected impact through research and innovation, but the way impact will be achieved up to the applicants' imagination and skills. Additionally, the impact areas are divided into the six clusters that make up Horizon Europe's second Pillar, "Global Challenges and European Industrial Competitiveness", namely the clusters dedicated to:
Cluster 1 – Health
Cluster 2 – Creativity and Inclusive Society
Cluster 3 – Civil Security for Society
Cluster 4 – Digital, Industry and Space
Cluster 5 – Climate, Energy and Mobility
Cluster 6 – Food, Bioeconomy, Natural Resources, Agriculture and Environment
Finally, the rest of the document presents international cooperation areas on key specific issues, the missions, and the European co-founded and co-programmed partnerships.
To read the Horizon Europe Strategic Plan 2021-2024, you can download it here.
Make iED your Strategic Ally for Horizon Europe Calls
Horizon Europe first strategic plan will create many opportunities for funding in the following years, and we now know the sectors that will benefit the most. As Horizon Europe calls are really demanding in terms of effort and expertise, those considering applying to Horizon Europe calls should find their consortium's ideal partner.
Counting more than 15 years of activity in the field of European Projects Implementation, Institute of Entrepreneurship Development (iED) makes the ideal partner for you. iED has developed expertise in various fields like:
Digital Health, Business & SMEs Support,
Agriculture & Environment,
Culture & Creativity,
Digital Education,
Inclusive Society and Gender Equality and others.
With this expertise, along with the knowledge of planning, writing, and implementing a wide spectrum of EU projects either as project partners or leaders, iED can certainly boost your chances for a winning consortium.
If you are looking for an experienced EU project partner for your Horizon Europe programme, become our partner to impact European Research and Innovation.