According to a report, the global internet of things market (IoT) will grow to $1.8 trillion by 2028. The phenomenal growth of IoT devices is expected to change the business dynamics of many industries. However, if you want to leverage the immense power of IoT, you need to have basic knowledge about IoT connectivity technologies to derive maximum benefit.
This blog post will discuss the popular IoT connectivity technologies, their pros, cons, and use cases. But before we get into it, let's understand the context of these technologies.
Role of Connectivity Technologies in IoT
Understand that for the IoT devices to work correctly there needs to be robust connectivity between the IoT devices and the servers to which they are relaying the information. Unfortunately, many businesses tend to overlook the critical aspect of IoT connectivity during IoT installation. Neglecting the IoT connectivity may ultimately lead to project failure.
This happens because, in many cases, the relay of information between the IoT devices and their servers is too slow due to improper selection of the connectivity technology. Another common issue that raises its ugly head when you fail to select the right connectivity technology in IoT is that the system cannot handle the data that needs to be processed.
Pay careful attention while selecting the right connectivity technology in an IoT project, as by doing so, you will be able to take complete control of your smart data streams.
Analyzed: Top IoT Connectivity Technologies
When it comes to IoT connectivity technologies, you have plenty of options at your disposal. Some have been a part of conventional IoT systems, while some have just been introduced. So let's look at the various technologies and their offerings and decide which ones will work for your project.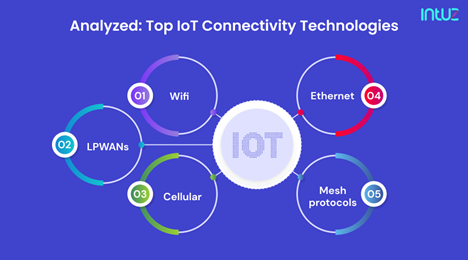 1. WiFi
WiFi is one of the best options for data-intensive speedy IoT systems operating within a small area. It has a bandwidth of up to 1Gb/second and operates on a high frequency (which means even more data to transfer). Plus, you get high compatibility with different boards, and it can work with an average WiFi router.
Popular among smart home IoT devices, WiFi works best for plugged appliances and devices that can be easily recharged, as it's also power-intensive. Modern WiFi versions have expanded the range and decreased power consumption. Moreover, WiFi standards have been developed for IoT purposes: WiFi HaLow and HEW.
Pros:
Extremely high bandwidth and speed
Good compatibility
Low cost
Easy setup in WiFi-enabled environment
Cons:
Limited range (usually, up to 100 ft)
High power requirements (however, less than cellular)
If the WiFi source is off, the IoT application can't send data
Popular use case:
Many smart home applications use WiFi. For example, camera-enabled smart doorbells that perform continuous video recording.
2. LPWANs
The era of LPWAN (LPWA, LPN), or low-power wide-area network, started with the emerging IoT applications. LPWAN is an IoT connectivity technology that allows connecting multiple devices and sensors miles away. In addition, it's inexpensive, can penetrate barriers and doesn't require a strong battery.
LPWAN connectivity implies sending small portions of data periodically and enables IoT devices or sensors to last for years without recharging. On the downside, this option has more significant latency (the wait time for data to be sent/received) and operates only with a gateway.
Like many other connectivity technologies mentioned above, LPWAN is an umbrella term. As a result, many IoT connectivity platforms belong to LPWAN technology. Some of the most popular ones are SigFox, Ingenu and LoRaWAN.
SigFox is a French company, and even though they have a presence in more than 60 countries, this connectivity option is still unavailable for everyone. On the other hand, LoRaWAN is an open platform, which means anyone can build upon this connectivity technology. Both LoRaWAN and SigFox work primarily in the uplink applications when data is sent one way from the device/sensor to a gateway.
Ingenu offers its proprietary RPMA connectivity option, which has a more reliable coverage than SigFox or LoRaWAN, and global reach. Among the company's clients are oil companies, power providers and agriculture professionals.
Pros
Long-range measured in miles
Inexpensive
Low power requirements
Cons
Low bandwidth
Less reliable (can lose data)
Higher latency
Popular Use Case:
One of the most popular business cases used to describe the efficiency of LPWAN is IoT applications in agriculture for field monitoring. This connectivity is ideal for huge fields with multiple soil sensors that send small data packages only once in 2-3 hours.
3. Cellular
Emerging 5G is believed to change IoT technology forever. And even though we are not there yet, other cellular technologies already play an essential role in developing IoT.
Cellular is a long-range connectivity solution that provides excellent bandwidth, reliability of data transfer and low latency. However, it requires a lot of power to handle all this data, and it's expensive, too. The price depends on the plans offered by IoT connectivity providers and the volume of transferred data.
The most common cellular standards are 3G and 4G (LTE). However, machine to machine (m2m) standards have been developed specifically for IoT: LTE-M and NB-IoT.
Pros:
Nearly global coverage
High speed and bandwidth
Reliability
Cons:
High cost
High power requirements
No range beyond the reach of cell sites
Popular use case:
Another example from smart agriculture is drones that use cellular connectivity to send video and image data during field mapping and crop monitoring.
4. Ethernet
Ethernet offers unmatched reliability, even more than a mesh network. It's a wired connectivity solution, and its range depends on the wire length. Overall, it provides better security, robustness, and high data transfer speed.
Pros:
Reliability, especially in a challenging environment
Robust to noise
Security
Cons:
Range limited to wire length
It relies on the cable, so it can be difficult to troubleshoot
Popular Use Case:
An Ethernet-based IoT system can be built upon an existing cable network, for example, on a plant. Additionally, Ethernet can be set up deep underground and provide reliable connectivity on mining sites.
5. Mesh protocols
Mesh topology provides excellent reliability for a system that consists of many battery-powered devices. In a mesh network, devices are connected and exchange data and send data to the Internet. So if one device goes down, the rest keep on going without any risk.
Zigbee and Thread are the two examples of mesh-based IoT connections. These are low power, low bandwidth IoT connectivity standards with limited range but reliable topology.
Pros:
Low power requirements
Reliability
Low cost
Cons:
Limited range
Relatively complex to set up for an average customer
Low bandwidth
Conclusion: Which connectivity technology is right for you?
Ideally, you would require an IoT connectivity option that consumes low power and can transmit massive volumes of data over long distances. In addition, the IoT connectivity technology should have all these features and be economical to ensure a high adoption rate by businesses.
Currently, no single IoT technology exists that provides all these features. Hence selecting the best IoT connectivity technology, you will need to negotiate a balance between the three critical connectivity parameters, namely:
Range
Bandwidth
Power consumption
Thus, there is no such thing as "best" IoT connectivity technology and it's all about finding the 'right' one. We hope this blog post has helped you get clarity about equipping your IoT devices with adequate connectivity technology.