In the summer of 2022, the Erasmus+ project BIG InternPrize organised a study trip to Malta for students from all over Europe interested in entrepreneurship. During the training, the best business ideas stood out as part of the competition.
As a project partner, the Institute of Entrepreneurship Development (iED) sent a delegation of three female Greek students to participate in the BIG InternPrize training and competition. The entrepreneurship competition sought to educate and help its participants develop business ideas to be presented to a jury.
The entrepreneurship competition announced three winners. The Greek delegation won the first two places in the contest with the relevant cash prizes and received encouraging feedback for their ideas.
The first two winners of the entrepreneurship competition were:
Efstathia (Efi ) Nikopoulou – 1st place with her idea "MobiGReens", winning €500 as a prize
Alexandra Demolika – 2nd place with her idea for the social enterprise "All For One Youth Organization", winning €250 as a prize
This important distinction of the Greek female students made us very proud. First, it highlighted the strong entrepreneurial spirit of young people, especially women. It also emphasized the effort made within Hellenic University, allowing us to look to the future with high expectations.
Let's find out more about the winners and their next entrepreneurial steps.
Their Path So Far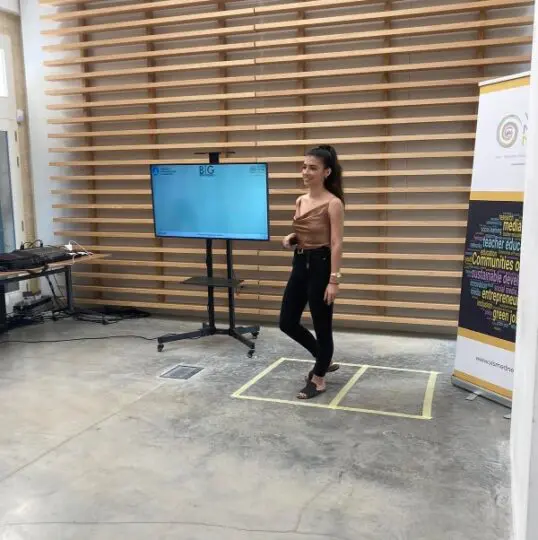 Efi and Alexandra are young students with different starting points but who share their passion for business.
Efi is a 23 years old and a soon-to-be graduate of the Department of Natural Resource Utilization and Agricultural Engineering of the Agricultural University of Athens. She specialises in soil science and agricultural chemistry and has a minor degree from the European University EU-CONEXUS.
Alexandra is 25 years old and a graduate of the Department of Spanish Literature of the University of Athens. She holds a Master's degree in Innovation and Entrepreneurship in Tourism from the University of West Attica.
In addition to their interest in business, they have another thing in common – their love for sustainable development.
Efi states, "The subject of my studies and my professional experience so far gave me the opportunity and pleasure to work on environmental issues. Issues that the whole planet is facing, and leaving my mark by contributing as much as possible to the increasingly intensive efforts made in this department" .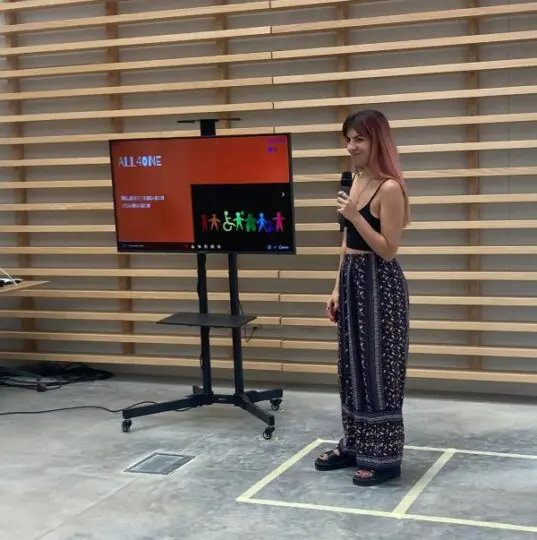 Similarly, Alexandra says, "In recent years, I have been working on sustainability in tourism, recycling and biowaste". Continuing, "Without sustainability, nothing is functional anymore. Therefore, by integrating it into all sectors, we benefit individually and collectively."
Consequently, we understand that both winners are interested in two significant issues – entrepreneurship and sustainability.
Entrepreneurship is a crucial prerequisite for the economic and social development of societies. Combining it with sustainable development and circular economy offers many fast-growing business opportunities with significant economic, social and environmental impact.
What motivates them?
Every person is unique. Our uniqueness is based on our different experiences growing up and our subjective hierarchy of needs. Finally, it is also due to our various evaluations of the situations we experience.
For Efi, what mattered most growing up was "doing something big, something important, something that would leave an imprint on the world". Entrepreneurship, combined with her sensitivity to the environment, allows her to realise her goals.
On the other hand, Alexandra expresses her love for languages, culture, and connecting with other people. These are what led her to study Spanish Literature and Tourism.
Specifically, she says, "I like to come into contact with people daily, organise trips and work on almost everything related to tourism… I believe that tourism broadens people's horizons and allows us to revise perceptions and stereotypes and embrace the "different"."
The Entrepreneurship Competition and the Source of Inspiration for their Ideas
For an entrepreneurial idea to be successful, it must, first and foremost, meet a need and offer solutions.
Most of the time, the source of inspiration can be our own experience. Other times, though more rarely, business ideas can be generated where you least expect them. Even for things you might not know about.
Many times, all we need is to be present in discussions and, in general, to keep our minds and ears open. For this reason, the environment in which we operate is vital.
In an Innovation Park, for example, the collaborative atmosphere and the interdisciplinary community of research, entrepreneurship and education sectors make it the ideal environment for the birth of new business ideas and innovative solutions.
This kind of environment was the source of inspiration for Efi 's business idea. As she said, her voluntary contribution to the non-profit organisation Greek Newspace Society played a crucial role in the conception of her idea.
She says, "I met people from a wide range of academic backgrounds and took part in interesting discussions and activities that pushed me to conceive this particular business idea." She continues, "It all started with an annual entrepreneurship competition organised by my university, where I decided to enter with an initial version of my idea, which admittedly had not had time to mature well in my mind."
Although Efi's idea got rejected in the first phase of the competition, she did not give up, as an entrepreneur should. Instead, she adapted her idea appropriately to make the business plan she had in mind more viable. As a result of the effort she put in, the BIG InternPrize entrepreneurship competition singled out her business idea as the best.
On the other hand, for Alexandra, the second winner of the entrepreneurship competition, the source of inspiration was her participation in similar Erasmus+ projects in the past. Experiencing their unique educational experience, she wondered how accessible this experience is for people with disabilities.
She says, "After researching, I discovered that inclusive programmes rarely exist, so I decided to create them myself… Programmes that aim at vocational training and lead to vocational rehabilitation."
For this reason, Alexandra's idea is to create a social enterprise to create educational programs for People with Disabilities (PWD), specifically for young people with autism.
What are their Plans for the Future?
For both Efi and Alexandra, setting up a business is always in their minds. Something they would like to pursue sometime soon.
However, for Efi, her priorities are graduating from university and starting her professional career. She describes, "I would love to travel a lot, at least in the first few years, and live in other countries, experience a new daily life that I would love equally, see how certain structures work outside the way I have been used to so far and of course take my first business steps."
Alexandra, has also completed her Master's degree, comments, "I would like to continue my involvement with sustainability in tourism and expand it, as well as see my business idea expand."
We want to congratulate them for their distinction in the competition and wish them all the best in their next business and professional steps.
If you also want to participate in similar training and competitions all over Europe, you only have to follow our events and open calls page. You will find numerous training opportunities on many different topics.
And how do you know? Like Alexandra and Efi, you might be the next to excel in a similar competition. You must seize the opportunity, step out of your comfort zone, and take a chance.