Entrepreneurship for persons with disabilities seems to be a good and effective way to reduce their unemployment rates, increase their competencies and social inclusion. According to a report produced by the OECD and the European Commission, 16% of the working-age EU population has some permanent or temporary disability. At the same time, experts estimate that this number will likely increase as Europe's population ages. Therefore, we are talking about a considerable number of European citizens that suffer from some form of disability that entrepreneurship can potentially have a big impact on their lives.
Let's dig in a little more on the subject of entrepreneurship for people with disabilities and on why they should seriously consider becoming entrepreneurs.
Is Entrepreneurship Suitable for Persons with Disabilities?
Despite the differences in how each state defines a disability, a large set of data indicate that people with disabilities are more likely to be unemployed or inactive. But even those who are fortunate enough to be employed are usually doing low-skilled and low paying jobs.
At the same time, other studies from the European Union Statistics on Income and Living Conditions (EU-SILC) suggest that people with disabilities are as likely to be self-employed as people without disabilities. Surprisingly, these numbers are higher in southern European countries like Greece or Italy than Northern ones like Denmark or Germany (see Figure 1).
Moreover, earlier findings from the UK have shown that entrepreneurship for persons with disabilities is probably a nice fit for them. They are more likely to operate as a home-based business. Certainly, working from home gives them the flexibility they need to be fully operational and efficient as their homes are designed based on their needs.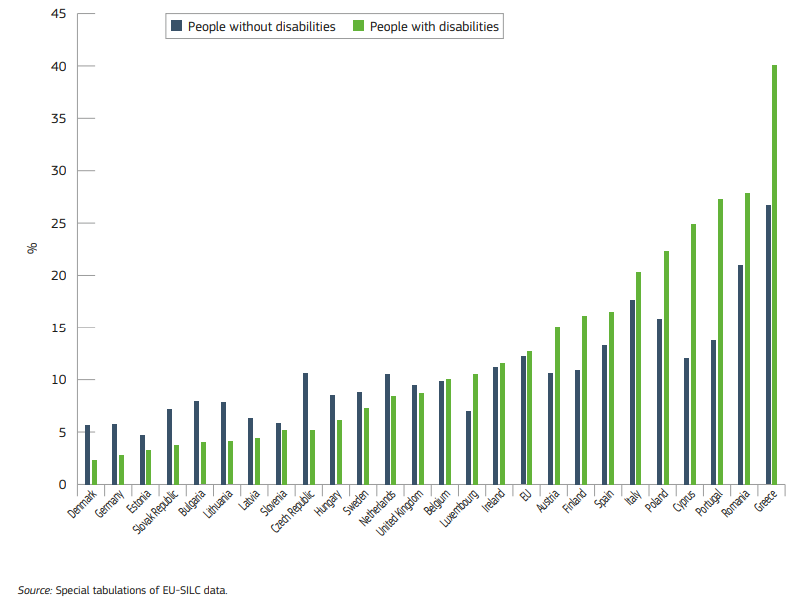 The Benefits of Entrepreneurship for Persons with Disabilities
Entrepreneurship is an ideal employment avenue for people that want to take advantage of the perks of starting their own business. For many, being their own bosses and making their decisions on what work to do, when to work, and how many hours is ideal. But, it's not only about this greater flexibility that a personal business offers, but also the financial gains.
The above reasons greatly influence people with disabilities to become entrepreneurs, but there are other significant factors. For people with disabilities, self-employment may prove their only shot to enter the labour market as they face severe discrimination at the workplace. Employers tend to deal with disabilities with a greater prejudice, while, most of the times, workplaces do not have the necessary arrangements to support disabled employees.
A further important advantage of entrepreneurship for persons with disabilities is that self-employment increases the self-empowerment of those individuals. Working on their own in a suitable work environment that can accommodate their needs proves beneficial to their well-being since they do not constantly feel limited by their condition. At the same time, they have the flexibility to work around their disability status and work-life, which they can tailor around their needs for their social and labour market participation to the extent possible for their situation.
Conclusion
Self-employment and entrepreneurship are excellent choices for people with disabilities. As disabled employees tend to require more workplace arrangements, employers are more reluctant to hire them. But, if they engage in entrepreneurial activities they will soon notice that working at their own pace and in their own suitable working environment not only will prove empowering for them but potentially more rewarding too.
In Touch project, that the Institute of Entrepreneurship Development (iED) participates as a partner, wants to bridge the opportunities gap that exists for people with disabilities. The project partners focus on young people with disabilities to provide them with the necessary entrepreneurial skills to start their own ventures. That way, they will avoid the social stigma and prejudice that many workplaces are full of.