The cost structure may be in the final steps of the business model canvas, but it is not of lesser importance.
Costs constantly incur inside a business no matter the business model it follows.
In fact, some business models are more cost-driven than others focusing on keeping their low-cost structure to a minimum. For instance, low cost airlines keep their prices low to attract more customers and increase their bookings.
Cost minimization is what most companies strive to be profitable. However, this does not apply to all businesses.
There are also those less concerned with keeping a low cost structure, focusing instead on value creation. Typical examples are luxury hotels with lavish facilities and personalized services. Their target group may be limited but, at the same time, more willing to spend extra.
Are you in the process of creating your own business and are thinking of using the business model canvas to start with?
Let's walk through the business model canvas to learn the basics with a focus on the cost structure part of your business plan.
What is the business model canvas?
A business model canvas is essentially the blueprint of your company. It outlines your operations, your customers, or what your cost structure is together with all other strategic actions.
The business model canvas was a proposition of the consultant and entrepreneur Alexander Osterwalder and is one of the most widely used canvases for developing new business models.
What are the building blocks of the business model canvas?
The business model canvas is comprised of nine main elements:
Key Partners: These are the strategic alliances your company forms together with other businesses or individuals.
Key Activities: The essential activities for your business operation.
Key Resources: The assets that your business needs to run your business and fulfil its value proposition.
Value proposition: This is your company's purpose of existence in meeting your client's needs.
Customer Relationships: How your business will interact with your customers and the kind of services it will provide to them.
Channels: The different avenues through which your company will deliver your products, services, or value proposition to your customers.
Customer Segments: Your customers divided into different groups or segments.
Cost structure: The amount of money your business spends on operations, your main costs, and how cost-driven are you.
Revenue Streams: The sources of your cash flows.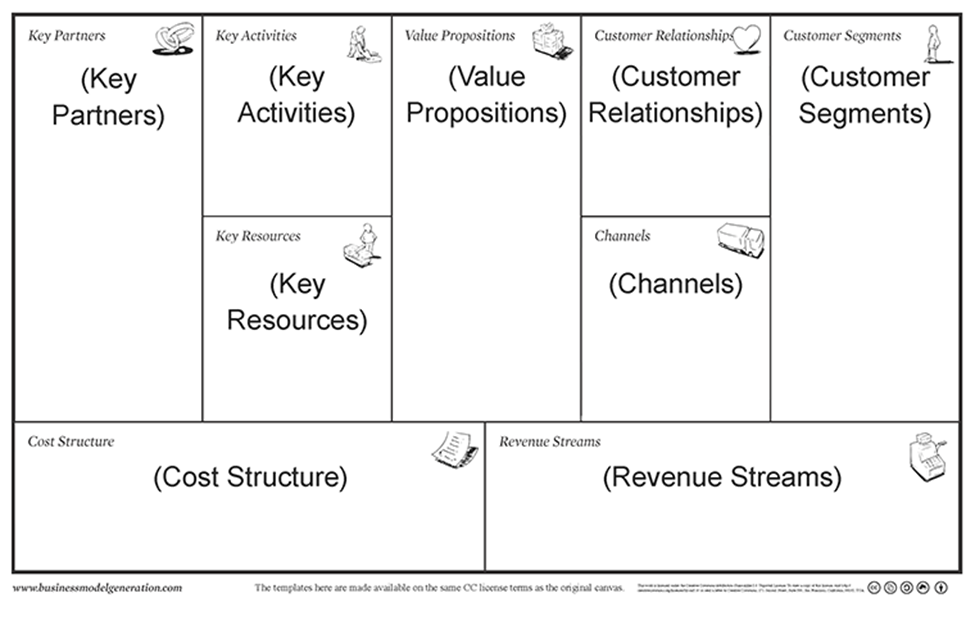 What is the cost structure in the business model canvas?
Businesses spend resources to create value. Thus, the cost structure details how a company spends these resources in all components of its business model.
Typically, they can be variable or fixed costs.
Cost structure attributes
Fixed costs: They are costs that a company has to pay each month that do not change based on the goods and services produced or sales of goods. These costs are indirect and, in a way, unavoidable. Some typical fixed costs are rent and salaries.
Variable costs: On the other hand, variable costs are business expenses that vary depending on the intensity of business operations. For example, during high production and increased sales, the variable costs increase as there is a higher need for raw materials.
Economies of scale: As companies grow, they may have additional cost benefits. For instance, large businesses can achieve better prices when buying in bulk compared to smaller ones. As outputs increase, the average cost per unit drops.
Economies of scope: With a greater scope of activities, costs may reduce further. In particular, larger organizations can simultaneously support several goods and services with the same marketing or distribution channels.
Conclusion
Having a better idea of what the business model canvas entails, you should be better off in creating your own business plan. Above all, you received key information for the cost structure building block of the business model canvas.
With this knowledge, you can have a good understanding of the existing cost structure types and how you can play around with the various cost structure attributes to reduce your costs and increase your profitability.
Do you want to become an entrepreneur and learn how to use the canvas business model?
The EYES project will upskill the next European social entrepreneurs based on the EntreComp model. Further, it will teach how to apply the canvas business model to create a social business in support of the SDGs.
Stay tuned!