Vocational Education and work-based learning in Greece have gained momentum in the past years, and rightfully so.

Greece, with 15.1%, has the highest unemployment rate in Europe along together with Spain. At the same time, EU-27 unemployment rates currently stand at 6.9% as of July 2021. The situation is even worse when we focus on the youth unemployment rate (under 25) in Greece, standing at 38.2%.
Greece had been suffering from very high unemployment rates since the beginning of the economic crisis in 2009. Greek joblessness even peaked at 27% back in 2013 with severe economic and social consequences.
Unfortunately, unemployment is unavoidable during a recession, but it is not the only reason that happens. Skills mismatch can also lead to unemployment. In this case, employers cannot find individuals with the skills necessary to fill the positions in their business. According to the Foundation for Economic and Industrial Research report – IOBE, Greece suffers from a high skills mismatch.
Expanding further on vocational education and work-based learning in Greece could provide the answers to Greece's long-standing unemployment problem.
Reading this article will inform you of the current situation of vocational education and work-based learning in Greece. Furthermore, it will highlight the important role that WBL can play in Greece's economic recovery.
The Challenges of Work-based learning in Greece
Small business sizes
Greece's entrepreneurial activity is characterized by many micro, small and medium-sized enterprises (SMEs), while it has the highest self-employment rates in the EU.
It is reasonable to assume that company size directly affects work-based learning opportunities in Greece with all that in mind. The smaller the companies, the fewer economic resources available to invest in training and learning activities. Therefore, the domination of micro and SMEs in the Greek economy does not constitute an easy case to examine when it comes to WBL in Greece.
Large enterprises that are the ones typically having more resources and far greater HR needs than SMEs are those investing more in WBL. But the relatively low number of big companies is not enough to cover Greece's needs and demand for workplace learning opportunities and geographical coverage.
Low Digitalization
On the one hand, SMEs are excellent for work-based learning opportunities as they tend to have a broader range of activities and lower specialization than big corporations.
But on the other hand, they also suffer from low digital integration. The subsequent lack of digital tools makes WBL activities more challenging to implement as young placements do not always have adequate support.
Bad business approaches
Greek businesses are obsessed with reducing production costs instead of investing in Human Resources to increase their competitiveness. For that reason, companies do not view work-based learning in Greece as something mutually beneficial.
In reality, businesses could gain a lot from work placements as they train people to acquire skills and competencies that their industry requires. Simultaneously, young Greeks, who suffer from high unemployment rates, would have a more accessible school to work transition.
Lack of support
VET education and work-based learning in Greece require immediate support for its further expansion and quality upgrade. Businesses lack information about WBL. Additionally, they lack incentives, and there needs to be better communication and cooperation between formal education and the world of work. Finally, it is essential the existence of networks and organisations acting as mediators for small businesses.
The workplace paradox
Vocational education and work-based learning provide the solutions that a lot of job seekers face. Landing a job or even receiving a call for an interview has become more challenging than ever.
Whoever has recently engaged in active job hunting should be familiar with the following paradox: Nearly all open job postings (even those for junior positions) require work experience. But it is impossible to get work experience without having a job first. This phenomenon has become quite common these days. But work-based learning programmes allow individuals to get the experience and skills employers are seeking.
Work-Based Learning in Greece is an opportunity for the future
For a country like Greece, work-based learning is the golden opportunity to fight young unemployment and skills mismatch.
WBL programmes can achieve the following:
Better soft and hard skills
The transition from education to work is always challenging, but the situation in the Greek labour market makes it even more so. The modern workplace demands something more than theoretical knowledge to secure a job. For that reason, young graduates need to be investing more in hard and soft skills even during their school years to make their transition to work easier.
The Greek educational system needs to implement more WBL programmes in schools. That way young people will have a better idea of what they want to do for a living. At the same time, they will acquire essential skills useful for their professional development.
Helps students make informed choices
Unfortunately, the existing system in place with the Panhellenic exams to enter the university has many flaws.
Students need prior and better knowledge before choosing a university program to study. For that reason, the Ministry of Education needs a more proactive role in guiding the students towards studies with better career prospects.
Therefore, it is essential to promote further vocational education. It has better employment prospects than many college degrees, but unfortunately, it is not appealing to students, mainly for cultural reasons.
Help the digital transition
Especially after the COVID-19 pandemic, the EU is spearheading towards a more digital and greener future.
There was already a demand for better digital skills even before the pandemic hit. Now that has become a national and European priority, reskilling and upskilling the greek workforce is essential. The below figure by Eurostat shows that digital skills in Greece were below the EU-28 average.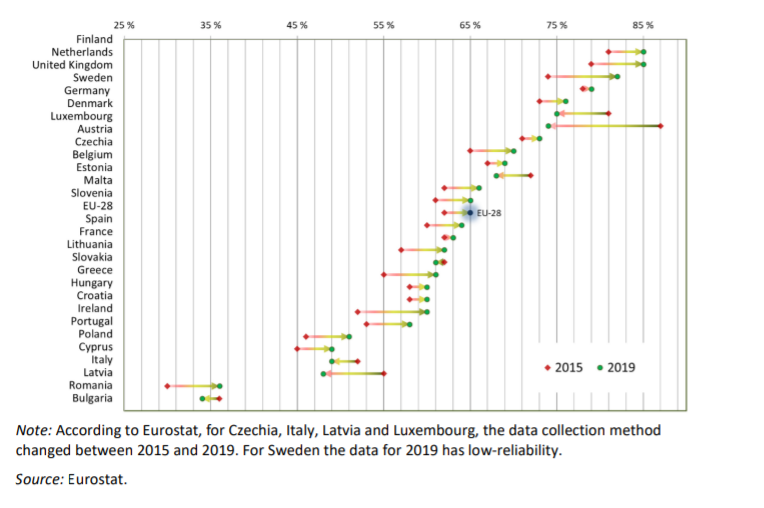 Work-based learning in Greece can ensure that the existing and future labour can support the digital transformation. WBL can ensure that young people will have at least some basic digital skills and the competencies required by employers. Young people are more familiar with new technologies. With proper training and work-based learning programmes, they will be able to lead on the digital transition.
Helping young people acquire the necessary skills to find employment in Greece will keep them inside the country and reduce the damaging brain drain. WBL provides experience and skills to people that can help reach the country's long-awaited economic recovery.
Conclusion
Greece has long been suffering from high unemployment with dramatic social consequences, especially in young people. To reduce the brain drain and unemployment rates, Greece should invest more in work-based learning.
WBL will allow them to get work experience and acquire skills critical for their employment in a competitive world. A skilled workforce at the peak of its productivity, like young people, can become the apparatus for Greece's economic recovery and transition to the future.
---
The VET-WBL Project
At this point, we would like to inform you about European actions around work-based learning and introduce you to the Erasmus+ project VET-WBL.
The project's main objective is to develop partnerships between schools and companies. These collaborations will establish work-based learning opportunities for students to prepare them for the actual work market with high-quality skills and competencies. Finally, it's equally important that through this collaboration, businesses can find the best future employees.
To learn more about VET-WBL project activities, you can its project page.