Gender Equality
Gender Equality and Entrepreneurship for All
The European Commission adopted a Women's Charter on 5 March 2010 and committed to strengthening gender equality in all its policies. To translate the Women's Charter's objectives into reality, the EC adopted an action plan for promoting equality between men and women –the Gender Equality Strategy."The actions in the Strategy will help us address some of the remaining gender gaps.The gender gap in the employment rate was 12 percentage points in 2009. We will work to improve women's participation in the labour market by facilitating the work-life balance, promoting female entrepreneurship," declared Viviane Reding, former Vice-President of the European Commission Justice, in "Strategy for equality between women and men" 2010-2015.
The target group of the project will be:
Key stakeholders, policy formulators and decision makers in each country: institutions/organizations/companies/SMEs/Local Public authorities/Representatives of the Ministry of Education/schools/kindergartens/Hospitality Industry/trade unions leaders.
VET and non-VET Teachers, Trainers, Mentors, Student Teachers, schools, teachers associations and/or unions, VET providers, teachers' education providers, national/regional organizations in charge of VET and non-VET education, local bodies, etc.
The project will raise awareness of equal opportunities especially in VET education and will promote entrepreneurship education as a solution to gender gap in the employment rate. To reach the Europe 2020 objective of a 75% employment rate, particular attention needs to be given to the proportion of female entrepreneurs, at 33% (30% in start-ups),which is some way short of optimum and most women still do not consider entrepreneurship as a relevant career option. Young women should also benefit from the growing emphasis on entrepreneurship as one of the basic skills that schools should teach all pupils, girls or boys.
It is this issue, which needs to be addressed. The development of entrepreneurial mindsets is becoming embedded in policy across Europe. It is this new approach that the project will experiment in the partners' organizations, institutions and schools.
Full title: Gender Equality and Entrepreneurship for All
Start: 01/09/2015
Finish: 31/08/2017
Programme: ERASMUS+
Sub-Programme: Key Action 2 – Strategic Partnerships
Website: www.geea-project.eu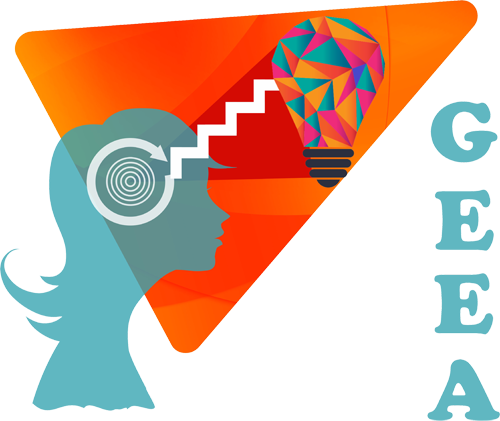 Gender Equality and Entrepreneurship training programme
Training programme for the promotion of Equal opportunities / Gender Equality related to entrepreneurship skills through personalized learning.
Read More…

This project has been funded with support from the European Commission.
This publication reflects the views only of the author, and the Commission cannot be held responsible for any use which may be made of the information contained therein.
Gender Equality