The first Health Hub roundtable on Artificial Intelligence "Advances and Future Directions of Applied Artificial Intelligence: Case Studies Across Domains" was organized successfully online on July 1st, 2021 by iED, the coordinator of the candidate EDIH Health Hub which leads the Digital Health Corridor of Collaboration.
During the Health Hub roundtable, specific AI case studies of the participant European Digital Innovation Hubs were presented and discussed.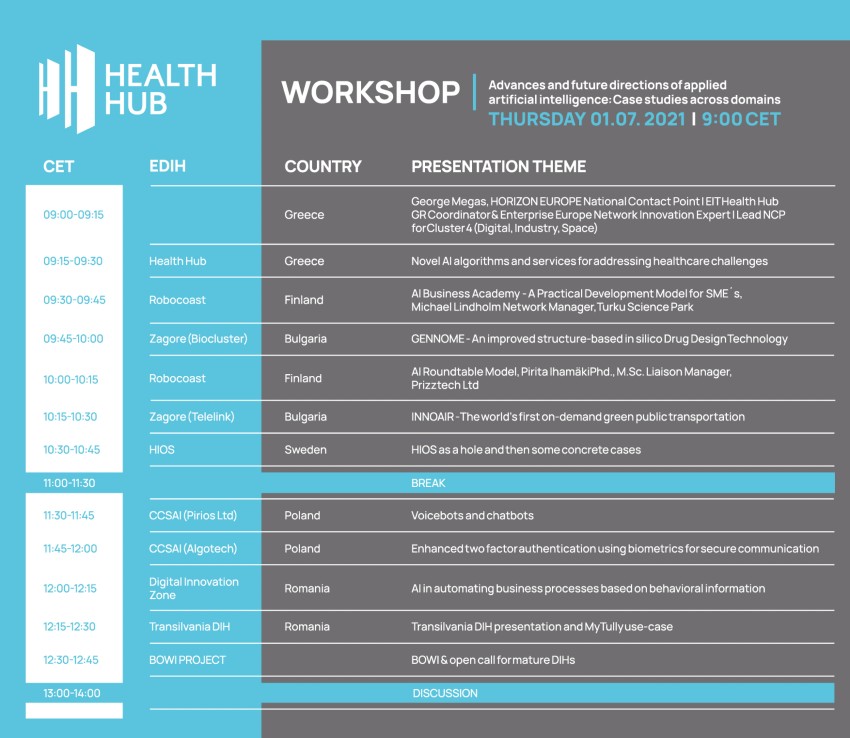 Special thanks are given to George Megas, the E.C. National Contact Point for Horizon Europe and Enterprise Europe Network Innovation Expert at the Hellenic National Documentation Center (EKT) and the EIT Health Hub Coordinator for Greece and Volodymyr Vargola, the head of Digital Transformation at CIVITTA for presenting the Boosting Widening Digital Innovation Hubs (BOWI) project, that aims to connect and support digital innovation hubs across Europe and assist companies to bring advanced digital solutions to life.
The participants were the following EDIHs:
Health Hub
Zagore
CCSAI – Centre for Cybresecurity and Artificial Intelligence
DiGiNN
DIVA
New events and interesting activities on eHealth powered by the Health Hub are coming soon. Become part of our network today!