It may still be early in 2022, but it is already a busy year for Erasmus+, and it is only about to get busier. Looking ahead, the opportunities for European project management and especially for the Erasmus+ programme couldn't be more exciting. But to properly take advantage of these Erasmus Plus EU funding opportunities, we decided to try something different this year.
How often have you felt that the impact of your Erasmus+ projects is not what it should normally be? If you ask us, the answer is plenty! For this reason, we decided this year to find the best Erasmus+ project partners there are to make our deliverables better for a bigger impact.
If you are thinking of the same, we will try to convince you why making Institute of Entrepreneurship Development (iED) your partner for the upcoming Erasmus+ deadlines would be a good idea.
The new Erasmus+ programme for 2021-2027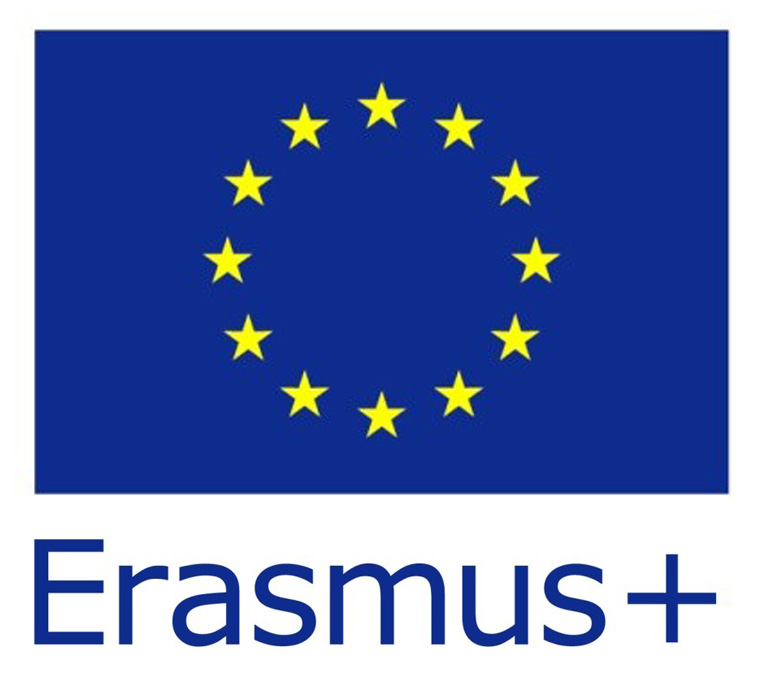 For better or worse, the new programming period coincided with a global pandemic that severely impacted EU project management. As a result, the priorities of all EU programmes had to change slightly. At the same time, new ones were born to meet the new challenges and opportunities presented by Covid-19. Erasmus+ was no exception to it as many of its new priorities were tailored to the unique situation:
Social inclusion and diversity
Cultivation of digital skills
Environment and climate change
Participation in democratic life
The new Erasmus+ programme emphasizes promoting lifelong learning, strengthening social cohesion and European identity, and encouraging innovation. Additionally, it enriches the existing funding opportunities with new calls. Such as the Partnerships for Innovation-Forward-Looking Projects (FLP) that focus on promoting innovative approaches and improving the education and training sectors.
The reasons to choose iED as your Erasmus+ project partner
iED is an award-winning NGO, and a Digital Innovation Hub committed to promoting innovation and entrepreneurial research in Europe. We are an established and experienced partner and leader with 17 years of experience planning, implementing, disseminating, and evaluating European projects.
As for our expertise, based on our experience and the background of our incredible colleagues, we have established ourselves as experts in the fields of:
Digital Education
Social Inclusion
Youth
Sustainable Development
Innovative Training Method
Entrepreneurship
Women Empowerment
Do you have any project ideas on the above fields? Do you identify iED as a fitting Erasmus+ project partner for your consortium? We would be glad to bring our experience to the table and co-develop an exceptional Erasmus+ project with you.
Our team is proud of those numbers, and we hope to convince you to help us raise them even further.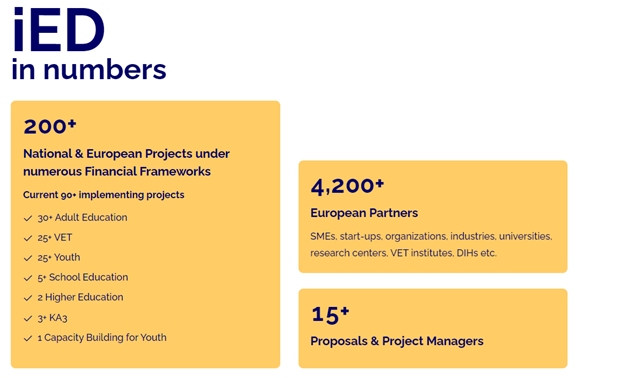 We seek project partners for these Erasmus+ deadlines
iED is active in many existing EU funding programmes, like Horizon Europe, Interreg MED, and others. However, Erasmus+ projects will always have a special place in our organization. Erasmus+ projects are the ones that have established iED as an expert and reliable project partner at the national and European level.
Right now, iED is actively looking for collaborations in the following upcoming Erasmus+ deadlines:
Are you planning to apply to the above Erasmus+ deadlines? If yes, let's join forces to submit a winning proposal for a positive impact.
Don't waste time getting in touch with our team to become our partner for these upcoming Erasmus+ deadlines.