Following the development of the DIG IN programme guide earlier this year, it is now the time for the digital toolbox to be used by trainers. The programme guide provided theoretical information and practical instructions on how trainers can organise the DIG IN training programme, which employs a variety of techniques. These include non-formal activities, collaborative learning, online and offline activities, individual and group initiatives, and exercises organised based on the five LICET values:
Territory, culture, and the local community
Innovation and improvement
Competitiveness, correctness, economic sustainability
Environmental sustainability
Taking care of people's health and social responsibility
Let's have a look at the digital toolbox for trainers and what it involves.
What Is the Digital Toolbox?
The Digital Toolbox is an online catalogue offering an inventory of exercises, reading material, tools, and resources prepared and translated by the project partners to be used at the EU, National or local level.
It is a list that has gathered materials that were prepared and freely distributed in previous years by other European projects. Our partners went through all of them meticulously and chose the best ones. The ones selected were, in turn, edited and adapted to best fit the project.
The result of the above is an inventory of ready-to-use lessons, activities, exercises and assessments properly categorised under each previously identified value to make it easier for educators to choose the ones they need.
You can see the digital toolbox for trainers on the project's website here.
The Contents of the Digital Toolbox for Trainers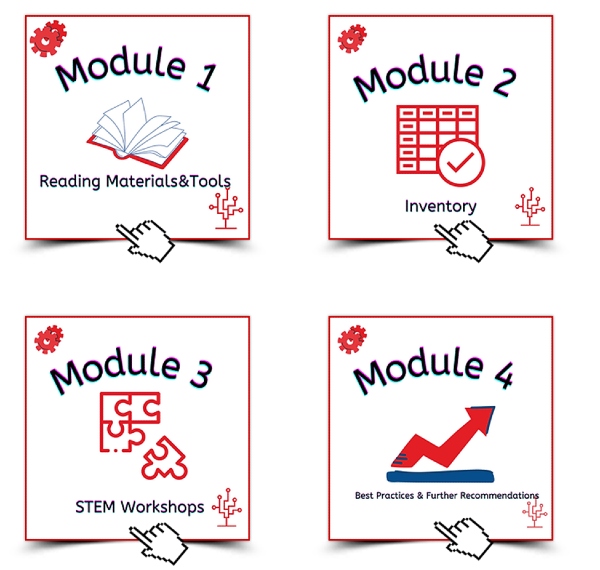 The digital toolbox is comprised of four training modules:
Module 1: Reading Materials and Tools
Module 2: Inventory
Module 3: STEM Workshops
Module 4: Best Practices & Further Recommendations
Depending on each educator's objectives, they can use any of the above modules to find what they need. What is important is that this list of ready-made training materials can save time and money for educators since they don't have to design and prepare them. Consequently, they can focus more on facilitating skills acquisition and validating their end results.
If you happen to find your teaching goals aligning with the ones set out in this project, you can find the Digital Toolbox for trainers on the DIG IN website.
Find related news and project updates by clicking here.