Designing conversations is quickly becoming a full-time job for humans as virtual assistant AI technology and chatbots continue to become more sophisticated. Conversation design has been used in many industries such as e-commerce and finance to increase productivity and improve ROI. But what exactly is conversation design? Why does it matter to your business? Let's dive into what conversation design is and why it matters.
What is Conversation Design?
Conversation design is a relatively new term. In short, conversation design is the process of designing customer conversations for your business to optimize the overall user experience. It encompasses both digital and physical interactions with your customers, services, or products. These interactions can include voice assistants like Alexa, smart speakers like Google Home or HomePod, chatbots, or any other digital user interface (UI) that a user could interact with.
All in all, conversation design helps simplify the overall user experience and customer journey, so you no longer have to have customer service reps waiting on the other line to answer the questions that can be answered by a chatbot or an AI virtual assistant.
Why Conversation Design Matters
Conversations are all around us, and conversational AI aids in getting customer questions answered quickly and accurately. Many elements make up a conversation, and a lot of these elements are taken for granted. Conversation design can be tricky to grasp, but that's why we are here to help. Let's go through a few of the benefits of conversation design together.
Benefits of Conversation Design
Satisfies your Target Audience
A good conversation design draws attention, creating a positive emotional draw towards your products or services. By creating a chatbot workflow that speaks directly to the pain points of your target consumer, you will give a memorable customer experience to your end-users.
Conversation is a major driver of growth and engagement among online users. The more customers you attract, the more people will engage with your brand and products. You want to have a well-designed, interactive conversation design that will push your target audience to take action.
Conversation design is a must for conversational flow, as it allows for richer conversations, more targeted advertising, and a much greater degree of personalization. Conversation design is all about enhancing the way you interact with your audience and building rapport. It keeps your customers engaged and motivated to come back for more!
Chatbots can save up to 30% on customer support costs. (Invespcro)
Now that we went over both what conversation design is and why it matters let's go over some of the principles of conversational UI design with chatbots.
Chatbot Design: How To Design a Chatbot
Conversations are a major part of just about every type of business, but chatbot design provides a unique opportunity for every business. Conversations are an opportunity to engage customers, and with chatbot design, you can make the user experience fun and easy for your end customer. Many different design factors go into creating a successful chatbot. Here we will go over how you can design a chatbot conversational strategy that works.
5 Steps to Design a Chatbot
1. Understand Your End-User
To create the best user experience possible, you must pay attention to some fundamental aspects of conversation UI design. You can start by asking yourself:
What are some common pain points that your customers have?
What do your customers have questions about?
Why might your customer base call customer service, and how can you allocate that duty to a chatbot?
2. Create the Flowchart
Next, it's time to take those commonly asked questions and pain points and create an easy-to-follow chatbot flowchart. When creating the flowchart, you need to keep the user experience at the top of your mind.
Pro tip: You always want to make sure that there is an option for the user to talk to an actual rep if they have a more specific question that your chatbot isn't programmed to answer.
3. Review
There is nothing more frustrating than when a business's chatbot doesn't understand what you are asking. It can leave your customers feeling like their time isn't valued, and it may make them turn away from your products or services altogether. That is why it is important to review your chatbot before launching. To prove to you how essential it is to review your chatbot, here are some statistics on chatbot common errors.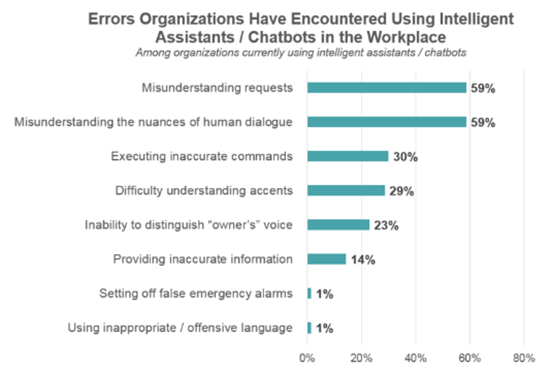 4. Launch
After reviewing the chatbot workflow, it's time to launch! Ensure that there are no errors in the workflow and that you haven't forgotten to add anything critical to the chatbot. Once it's launched, you can review some of the conversations that users have with your chatbot.
5. Re-Optimize
You want to always revisit your chatbot to see what's working and what isn't. If there is a common issue with the chatbot, you want to make sure that it gets fixed right away! Again, the last thing you want to happen is to make your customers feel frustrated with your business.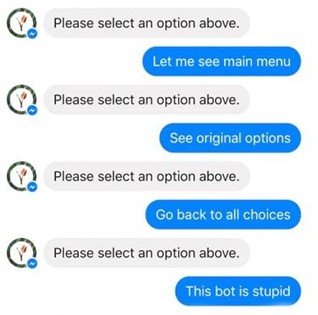 80% of businesses are expected to have some sort of chatbot automation by 2021. (Outgrow)
Wrapping It Up
Chatbots are transforming the eCommerce playing field to automate high volumes of customer service requests, gather insightful feedback and create a more enjoyable online shopping experience. If you're looking to give your business a competitive edge and stand out in a saturated market, conversation design is a good place to start. If you have taken anything away from this article, let it be this: innovation in AI conversational solutions has endless possibilities, impacting efficiency and productivity in the buyer journey and increasing your bottom line.
---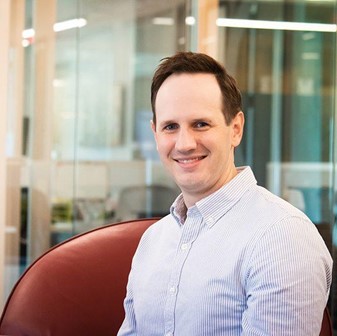 Ryan Gould
Vice President of Strategy and Marketing Services Elevation Marketing

From legacy Fortune 100 institutions to inventive start-ups, Ryan brings extensive experience with a wide range of B2B clients. He skillfully architects and manages the delivery of integrated marketing programs, and believes strongly in strategy, not just tactics, that effectively aligns sales and marketing teams within organizations.
Ryan is known for taking complex marketing and business challenges and developing solutions that simplify processes while driving customer outcomes and business value. He also thrives on guiding Elevation teams toward execution of strategies that help companies succeed in new verticals, while staying true to core values and brand integrity.
LinkedIn: https://www.linkedin.com/in/rygould/