Career Guidance and counselling are an absolute must at this time and day. The labour market is more competitive, and many young people have trouble finding a job or deciding on a career.
There are plenty of career guidance and counselling services provided by specialists around Europe to assist individuals in making educational and occupational choices, improving their competencies, planning their careers, etc.
This article will highlight the importance of career guidance and counselling and will show how to find an organization providing career guidance and counselling near you.
Let's find out.
Why Is Career Guidance and Counseling important?
Career counselling and guidance programs assist individuals in acquiring the information, skills, and experience required to discover opportunities, explore alternatives, and thrive in society. These programs better prepare people for the changing workplace of the twenty-first century by:
educating about labour market changes and workplace complexity
expanding one's knowledge, skills, and talents
enhancing decision-making abilities
boosting one's self-esteem and motivation
improve interpersonal effectiveness
optimizing career options
increasing job marketability and possibilities
encouraging effective job placement
enhancing employer-employee relationships
How to Find a Career Counseling Organization Near You
There are plenty of organizations providing career advice and counselling all around Europe. However, at the Career Skills project, we did our homework to bring you a comprehensive list of career counselling organizations near you.
By visiting our Career Service Map that you can find on our website, you can find a map of Europe pinpointing career services organizations that we have identified with our partners.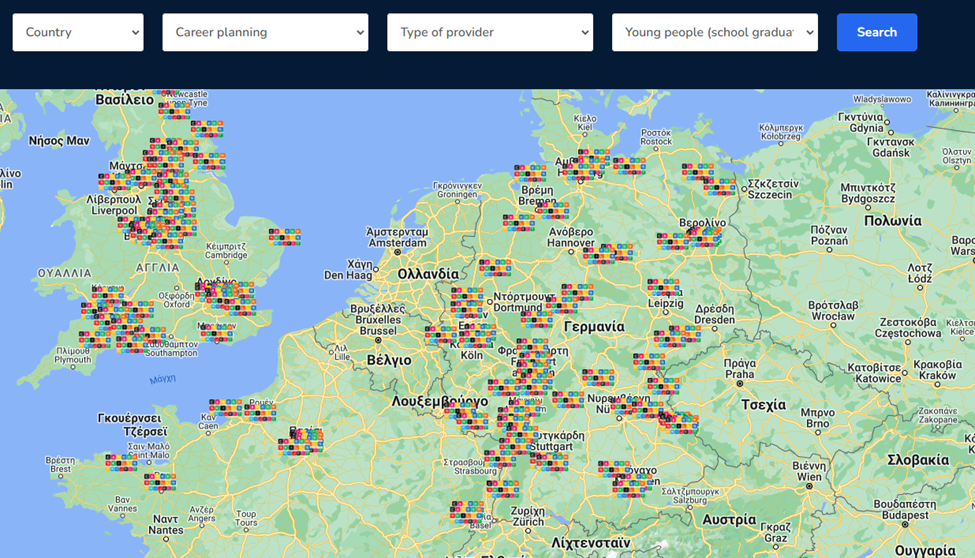 The way it works is simple.
Choose the country you are in or the country you are interested in receiving counselling
Decide the type of service you are interested in receiving, like improving a skill, your employability, etc.
Choose the type of provider. You can choose between public employment services, vocational education and training provider, and education and training centre, among others.
Select the type of user that you are. Are you a job-seeker, job changer, or a NEET?
We hope that you will find this list of career guidance and counseling organizations as useful as we made sure to be. Best of luck in landing your next job!
If you are interested in reading more news relating to careers and skills development, you can have a look at the following: